Company news
06.05.2010
Websites
There you will find all important information about our company, our services provided and our contacts.
Contact information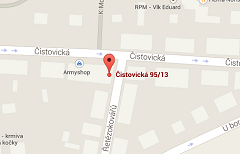 EPM-ECOPLAST MACHINERY s.r.o.
Čistovická 95/13
163 00 Praha 6
Czech Republic



About company
EPM - ECOPLAST MACHINERY
We have long experience with recycling technologies, we can offer to our client's complete service with very reliable facilities in Asia. For the Czech Republic, Slovakia and Hungary we have exclusive agency from renowned foreign manufacturer of recycling technologies GENOX Guangzhou and POLYSTAR Taiwan.
I

n particular, we focus on recycling lines for plastic waste processing and production lines that are capable meaningfully process the recycled plastic

.
WASTE MANAGEMENT
We use years of experience of our managers and in cooperation with our office abroad; we provide useful feedback for our customers who already work with these technologies. We continuously, raise the technical standard of the equipment, its efficiency and increased comfort.

For our customers we provide comprehensive services:
• Close cooperation with our customers is natural for us. Our cooperation in design processing, economic optimization of the proposed operation in all aspect in accordance with applicable legislative requirements is natural.
• We organize production of recycling technologies and custom designed components.  We supervise the production from start to finish.
• The actual delivery of technologies is realized at comparable quality and performance of equipment, while for significantly better and more affordable price compared to European producers.
• The delivery of technologies consists of transportation, customs formalities, professional installation, and operator training and warranty service. Naturally It is possible, to arrange after warranty service.
• At the time it`s necessary we provide to our customers direct technical assistance in various start-up businesses.
• We supply compatible spare parts for a lifetime of delivered and installed technology.